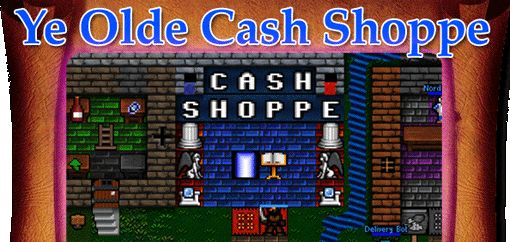 Euotopia Cash Shoppe - Buy Stuff!
By spending money in Euotopia you not only amuse yourself but help support continued development.
New Sosarian Cooking Adventures!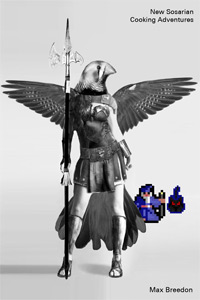 Estorrath, the greatest wizard in New Sosaria, writes a cookbook, reluctantly receives visitors, has strange visions, cooks dinner for his ex-girlfriend, hunts down a shadowlord and goes on one final sacred quest in search of the mythical Lord Eggleton.
New Sosarian Cooking Adventures is the one and only official EUO novel - 150 or something pages of canon-fan-fic written by the creator of EUO.
Just $0.99 (min) on Smashwords

XP Happy Hour -
New!
$3 buys 1.5x XP bonus for 1 hour on the server of you choice for ALL PLAYERS!
Happy hour XP stacks with all other XP bonuses, such as dragon rations, omelettes, and first weekend of the month 2x XP weekends!
Note! Buying an XP bonus when one is active already will not go to waste: the XP bonuses queue, so the one you buy will be made active when any others run out!

Adamantium Coins
Bag of 20 - $2

Some of the things you can buy with addy coins are:

a horse you can ride at level 10
bovine mount at level 50
portable banker, house banker
stat respec
avatars, dyes for your avatars
race changes
fancy tiles for your house
dyeable chests for your house
hearthstone for your house
and more! See the cash shoppe in Nordhaven!
full details on the forums!
Avatars for Sale
All avatar sales are now conducted through Ye Olde Cash Shoppe - accessible via the portal in Nordhaven!
Monster Avatars
Monster avatars are acquired by using an avatar wand which is available for purchase in the shoppe. The avatar wand works on just about anything. 80AC ($8) on reg and 40AC ($4) on PD & NG!
Housing
Check here for housing availabilty. Email first to book the house then pay by clicking the button below.
In the "message to seller" box on the final checkout page please type in your account name!
Other Goodies
named weapon - now done in-game via the shoppe

resurrection stone - $5

Disclaimer - Please read!

RES STONES DO NOT WORK IF THEY ARE KEPT IN THE BANK. YOU MUST KEEP RES STONES IN YOUR INVENTORY!

custom title - $5

Don't like being grandmaster stoic? Get your title changed to anything you like (within reason).

Now available directly from the Cash Shoppe on all servers!

name change - $5

Sick of that stupid name you chose 3 years ago? Get it changed to something new and awesome. $5 for the DM's hassle of renaming all of your stuff.

other payment

Use this button to pay for any miscellaneous items or services, such as monster PD avs, restorations, etc.
A note on Free to Play vs Pay to Win
While Euotopia is Free to Play, and though you can buy ingame items and things with real money, Euotopia is most definitely not Pay to Win. Your characters can exist perfectly happily, and even be the best, without you ever spending a cent.
Spending money on Euotopia supports its continued development however, and is not discouraged. If you like it and stick around, please buy some adamantium coins and spend them at the in-game Cash Shoppe.